Commercial Security Shutters
Commercial Forceshield Security Roller Shutters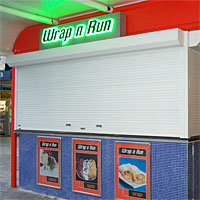 WHY IS COMMERCIAL FORCESHIELD SO STRONG AND SECURE?
3.5mm thick high grade aluminium tracks that are extra wide and 2.5 times thicker and 3 times heavier than conventional ones.
Extruded double walled profiles.
High security glass nylon reinforced rivotted wind lock clips.
Category 3 cyclone rating.
The strongest extruded shutter and tracks of this profile available in Australia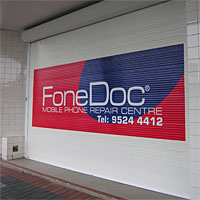 WHY DOES COMMERCIAL FORCESHIELD LOOK SO GOOD?
Covers a massive 4.5 metres in a single span.
Rolls into a smaller neater pelmet box than conventional commercial roller shutters.
Has a high gloss, super smooth, maintenance free, powdercoated attractive finish in a range of colours.
Sign writers dream to paint.
APPLICATION
The extruded aluminium 36mm profile is ideally suited to commercial applications such as shopfronts, banks, schools, hospitals, office blocks. It provides the highest security protection against forced entry. Forceshield Commercial is many times stronger than the standard European style 40mm profile used in domestic window shutters
MANUFACTURE
Manufactured in Australia from 6060T5 marine grade aluminium, the profile is then painted in DULUX architectural grade powdercoat giving maximum protection.
TECHNICAL DATA
| | | |
| --- | --- | --- |
| Pelmet Size | Max Shutter Height (incl roll) | Maximum Shutter Width |
| 137mm | 900mm | 5000mm |
| 150mm | 1250mm | 5000mm |
| 165mm | 1350mm | 5000mm |
| 180mm | 1900mm | 4500mm |
| 205mm | 2400mm | 4500mm |
| 250mm | 2950mm | 4500mm |
| 300mm | 3500mm | 4000mm |
SPECIFICATIONS OF PROFILE

| | |
| --- | --- |
| Type | Extruded & Punched |
| Material Gauge | 1.1mm |
| Slat Coverage | 36mm |
| Weight | 8.5kg/m2 |
| Standard Colours | White, Cream, Beige |

Non standard powdercoat colours by request.

SPECIFICATIONS OF EXTRUDED PROFILE