Commercial Security Shutters
Our Range of Commercial Security Roller Shutters
We are specialists in providing quality security shutter solutions for a wide variety of commercial applications.
Our list of accomplishments includes security prestige retail outlets such as Giorgio Armani, Calvin Klein, Jorge Jensen, Gucci, DKNY, Hermes, Dinnigans and Chanel shopfronts.

Commercial Forceshield Security Roller Shutters
The extruded aluminium 36mm profile is ideally suited to commercial applications such as shopfronts, banks, schools, hospitals, office blocks. It provides the highest security protection against forced entry. Forceshield Commercial is many times stronger than the standard European style 40mm profile used in domestic window shutters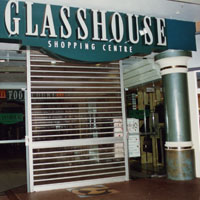 Visionshield Shopping Centre Security Shutters
Protecting valuable stocks is one of the foremost concerns of all shop owners. Many items require protection and need to be completely sealed away from outside interference.

Rollabrick Security Shutters
Symmetrical or brick patterned security roller grilles forming a continuous security panel to protect windows and doors against vandals, burglars and the elements.
In commercial applications, Rollabrick allows viewing of window displays and saleable merchandise while providing total security.

Extra Wide Security Shutters
Extra wide shutters for a variety of applications.